COOL STUFF ON THE WAY!
Here you can see cds, t-shirts and other cool stuff that will be added to the shop.You can also preorder these items. If you
preorder
it is so much easier to me to know how many copies I shall order.
MODEST ATTRACTION - Reissues and Get Ready on LP!
Both The Truth in Your Face and Divine Luxury will be rereleased on LP! A third LP will also be released featuring Modest Attraction's demo Get Ready previously available on cassette only. All tunes are remastered making them sound better than ever.Definitely a must have for all fans of 70s Metal!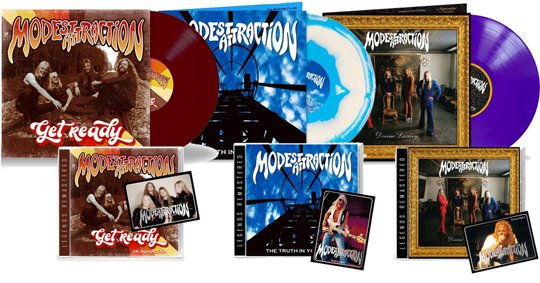 Soundclips:
https://www.youtube.com/watch?v=b-ds8Gl5XsU
https://www.youtube.com/watch?v=EINSyu9kS-Y
https://www.youtube.com/watch?v=Fw9At4XVVBw
THE BRAVE - Evies Little Garden
The Brave is back with a new album! The new release reminds quite a lot of their first classic album with tons of catchy hooks and harmonies to enjoy.
MICHAEL SWEET - Honestly Book
Reprint of Michael Sweet's (Stryper) biography.
THEOCRACY - As The World Bleeds LP
Vinyl is released in two editions: Double LP White/Black marble vinyl + Blood Red vinyl. Limited to 700 copies.Double LP White vinyl. Limited to 300 copies. Both vinyl editions include an A2 artwork poster!
BRIDE - Remastered reissues of first 3 albums
Now we can enjoy Show No Mercy, Live To Die and Silence is Madness on remastered CDs. Silence Is Madness includes four bonus tracks recorded for the album but not used, while Show No Mercy and Live To Die each include three.
FLAMES OF FIRE
Pure True Heavy Metal with plenty of guitar solos and heaviness to enjoy! Featuring Christian Liljegren (Narnia, The Waymaker, Golden Resurrection) and guitar shredders Mats-Åke Andersson (Zaragon) and Stephen Carlson (who worked with Christian on his solo album Melodic Passion). Bass player is Per Schelander (House of Shakira, Astrakhan, ex Royal Hunt and Pain of Salvation)and drummer is Jani Stefanovic (The Waymaker, Divinefire). Look for a release in March 2022.
JERUSALEM - New album
Finally a brand new album with the Hardrock pioneers Jerusalem! Sound will kinda be like Warrior. Look for a release before Summer 2022.
LEVITICUS - All albums rereleased!
All 5 Leviticus albums have been remastered and will be released on CD. Their 4 studio albums are also released on LP in random color (200 copies each).
ALL FOR THE KING - Let There Be Light LP
The sound has been heavier. Musically they have been described as a modern day Black Sabbath. LP will be released in February 2022.
MORTIFICATION - Mortification Orange LP
First Mortification album now released on orange LP!
BLOODGOOD - Metal Missionary LP
The classic demo now released on LP for the first time ever.
THEOCRACY - new album
New album on the way with more Melodic Metal / Power Metal to enjoy!
SAINT - new album
New album with more Classic Heavy Metal!
MORTIFICATION - CDs
Several classic Mortification (Death/Thrash) albums have been remastered 2020 making them sound better than ever! If there is interest I can import the following Mortification CDs for you: Mortification, Scrolls of the Megilloth, Post Momentary Affliction and Primitive Rhythm Machine.
JOSHUA - Intense Defense (Remastered) CD
This Melodic Metal/AOR classics with Rob Rock on vocals will seen be rereleased!The whole Intense Defense album has been remastered, making it even better with a cleaner and more powerful sound with more punch. Take the chance and preorder this Melodic Metal classic filled to the bone with catchy hooks and amazing guitar solos! All tracks are re-mastered, new bass guitar added and it's sonically improved.
---
© Metal Community 1999-2021 - Distributing Christian Metal for over 20 years!